Botanist, Basketball Player, and Budding Conservationist
Ada Hayden's Student Years at Iowa State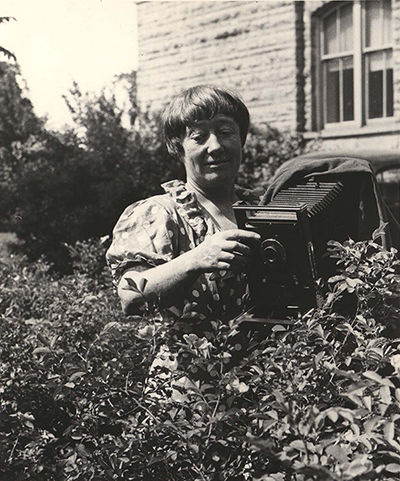 Ada Hayden (Iowa State alum and professor, botanist, advocate for prairie preservation) was conferred her PhD from Iowa State on May 29, 1918. She was the first woman to receive a PhD at Iowa State, and the fourth of any gender. Not only did Hayden graduate from Iowa State, but she dedicated her career to the institution and advocated for the preservation of Iowa's prairies. Having received her B.S. (1908) in botany and PhD (1918) from Iowa State, Hayden spent close to a dozen years as a student on Iowa State's campus during the first quarter of the 20th century. This online exhibit seeks to explore what life may have been like as a student for Hayden, both as an undergraduate and doctoral student - exploring the rapidly expanding campus scene and student life. 
After graduating from Ames High School, Hayden started at Iowa State as a freshman in 1904 and graduated in 1908 with a Bachelor of Science in botany. Louis Pammel, professor of botany at Iowa State and who would continue to be her mentor after she graduated, persuaded the young Hayden to pursue her interests in botany at the Iowa State. After receiving her master's degree from Washington University in St. Louis and briefly attending the University of Chicago for graduate work, Hayden began teaching at Iowa State as an instructor in 1911 and worked toward her doctoral degree in the department of botany. In 1920 she became Assistant Professor of botany, and in 1934 research assistant professor at the Agricultural Experiment Station (Lakes Region) and curator of the herbarium (which would later be named after her). Advocating for the preservation of Iowa's prairies throughout her adult life, Hayden's work to document Iowa's remaining prairies helped the state make informed decisions when seeking to acquire remnants of Iowa's native prairies.1  
About the Digital Collection and Online Exhibit 
The original Ada Hayden digital collection2 was expanded in 2018, 100 years after Ada Hayden became the first woman to receive a PhD from Iowa State. Originally containing scans of the hand-colored glass slides Hayden used for her public presentations on prairie ecology,3 the expanded digital collection includes selections of her correspondence, photographs, illustrations, and creative work. The digital collection primarily documents Hayden's work after graduation, as documentation of her student life here at Iowa State is minimal. To supplement the digital collection, this online exhibit was created to highlight Hayden's student experience while here at Iowa State. 
The digital collection focuses on items that reveal some of the often behind-the-scenes work Hayden did throughout her career. Her correspondence reveals details of her student and professional life, and the photographs her interests in documenting Iowa's ecology. Not only did Hayden photograph prairie ecosystems, but her photographs also include agricultural fields, livestock, and workers on what was, most likely, once native prairie. Once you've perused this online exhibit, explore the digital collection to see a selection of materials documenting Hayden's work after graduation.