Edward Mezvinsky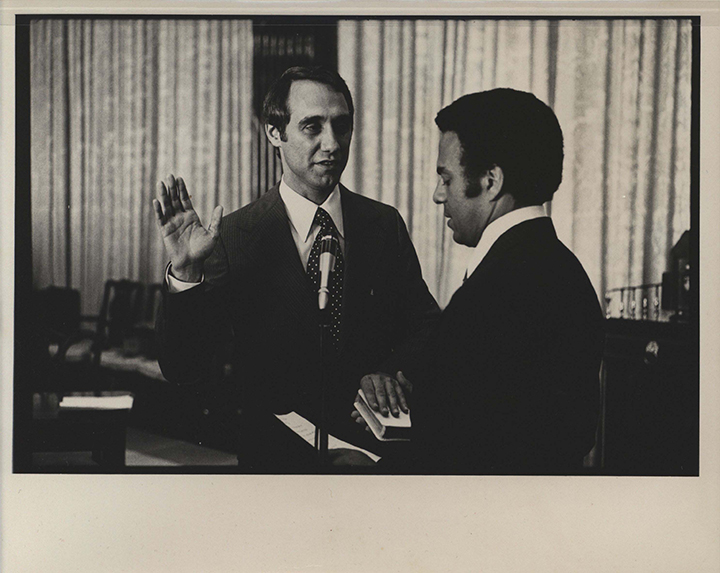 Following his loss to Republican Jim Leach in the 1976 1st District Congressional race, Mezvinsky and wife Marjorie Margolies permanently relocated to Philadelphia, where Marjorie had a career as a television journalist.2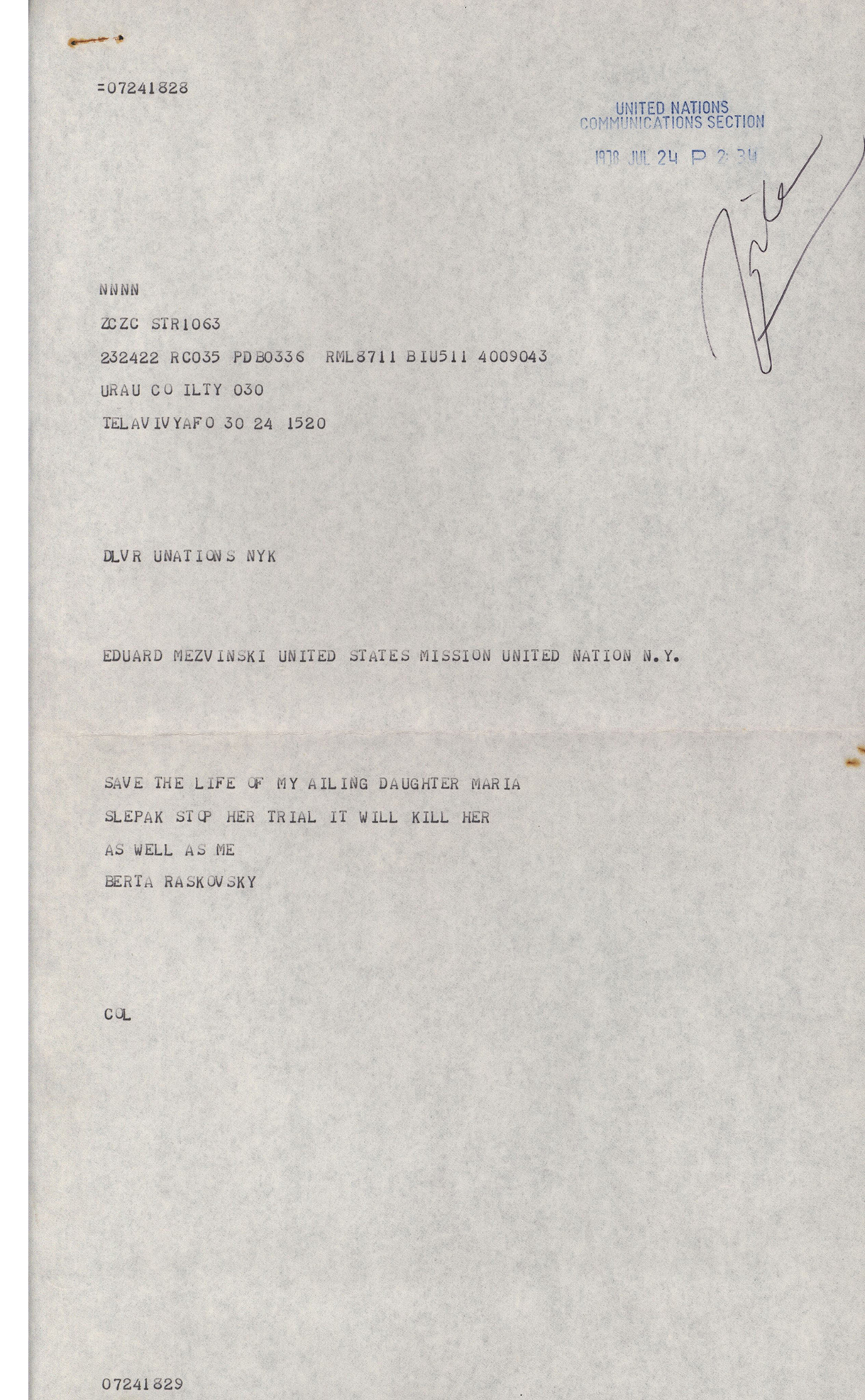 United Nations Communication
3
Click on image for closer view.

In 1977, President Jimmy Carter appointed Mezvinsky as United States Ambassador to the United Nations Commission on Human Rights and was spokesperson for the United States at the United Nationals Economic and Social Committee. In addition to his work related to human rights violations in the Soviet Union, specifically those directed against Jews, Mezvinsky delivered speeches on several occasions before the commission affirming President Carter's commitment to peace in the Middle East and for human rights.
For the next two years, Mezvinsky spoke out against human rights violations being directed at Jewish populations in the Soviet Union and advocated their movement to Israel. His championing of Jewish causes continued a foreign policy interest that began during his time in the House of Representatives, where he supported a strong friendship between the United States and Israel. In one case, Mezvinsky's role as ambassador put him into contact with the family of Maria Slepak, an influential voice in Moscow for the Refuseniks, a moniker given to Jews who were refused permission to emigrate out of the Soviet Union. Despite his correspondence with Slepak's family, the United States was unable to procure her movement out of Moscow. Maria Slepak and her family were finally allowed to leave the Soviet Union for Israel in 1987.4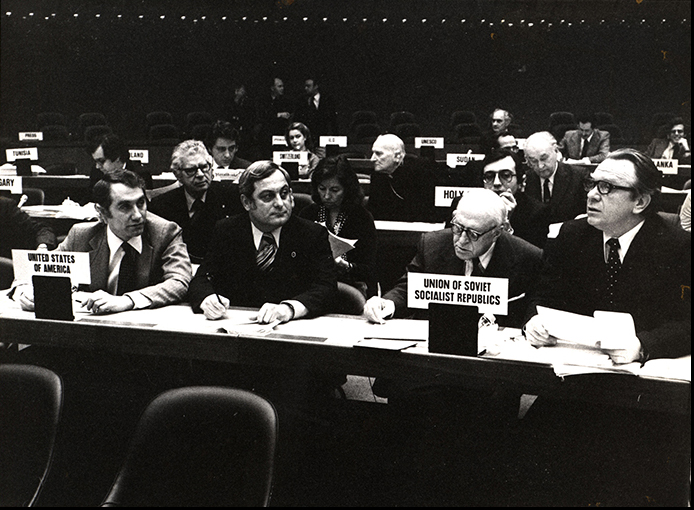 After two years as an ambassador with the United Nations, Mezvinsky chose to re-enter electoral politics, hoping to win a Pennsylvania Senate seat held by a retiring incumbent Republican. Mezvinsky lost the Democratic primary to a former mayor of Pittsburgh, who in turn, lost to Republican Arlen Specter.6 Mezvinsky subsequently served as chairman of the Pennsylvania Democratic Party before losing his bid to become the state's Attorney General in 1988 and the Lieutenant Governor's race in 1990.7 During the mid to late 1980s, Mezvinsky also became out an outspoken critic of the Internal Revenue Service, charging that the agency was too easily manipulated by the political agenda of the Executive Branch. To remove political influence from the IRS, Mezvinsky argued that a special inspector general be given oversight of the agency to watch for "abuses of power" and "to stymie malfeasance." 8
1. Photograph from Box 7, Folder 6, Edward M. Mezvinsky papers, MS 274, Iowa State University Library Special Collections and University Archives.
2. Marjorie Margolis was Mezvinsky's second wife. She was a journalist for WRC, an NBC affiliate on the East Coast and later a correspondent for the Today show. From 1993 to 1995, Margolis represented Pennsylvania's 13th Congressional District as a member of the Democratic Party. "Marjorie Margolies of NBC Wed to Rep. Edward Mezvinsky," The New York Times, 6 October 1975.
3. Communication is from Box 8, Folder 4, Edward M. Mezvinsky papers, MS 274, Iowa State University Library Special Collections and University Archives.
4. Additional information on Maria Slepak can be found online in her obituary, https://www.ijn.com/maria-slepak-1926-2017/
5. Photograph from Box 19, Folder 3, Edward M. Mezvinsky papers, MS 274, Iowa State University Library Special Collections and University Archives
6. Specter was first elected to the Senate as a Republican before switching parties to become a Democrat in 2009. "Senate Race in Pennsylvania: A Lackluster Story, Promising Suspense," The Washington Post, 1 November 1980.
7. "In Pennsylvania, Divisive Primaries," The New York Times, 18 May 1986.
8. Edward Mezvinsky and Bill Adler, Jr., "Blackmail, Bribery, Corruption: The File on the I.R.S.," The New York Times, 24 July 1989.