Map
---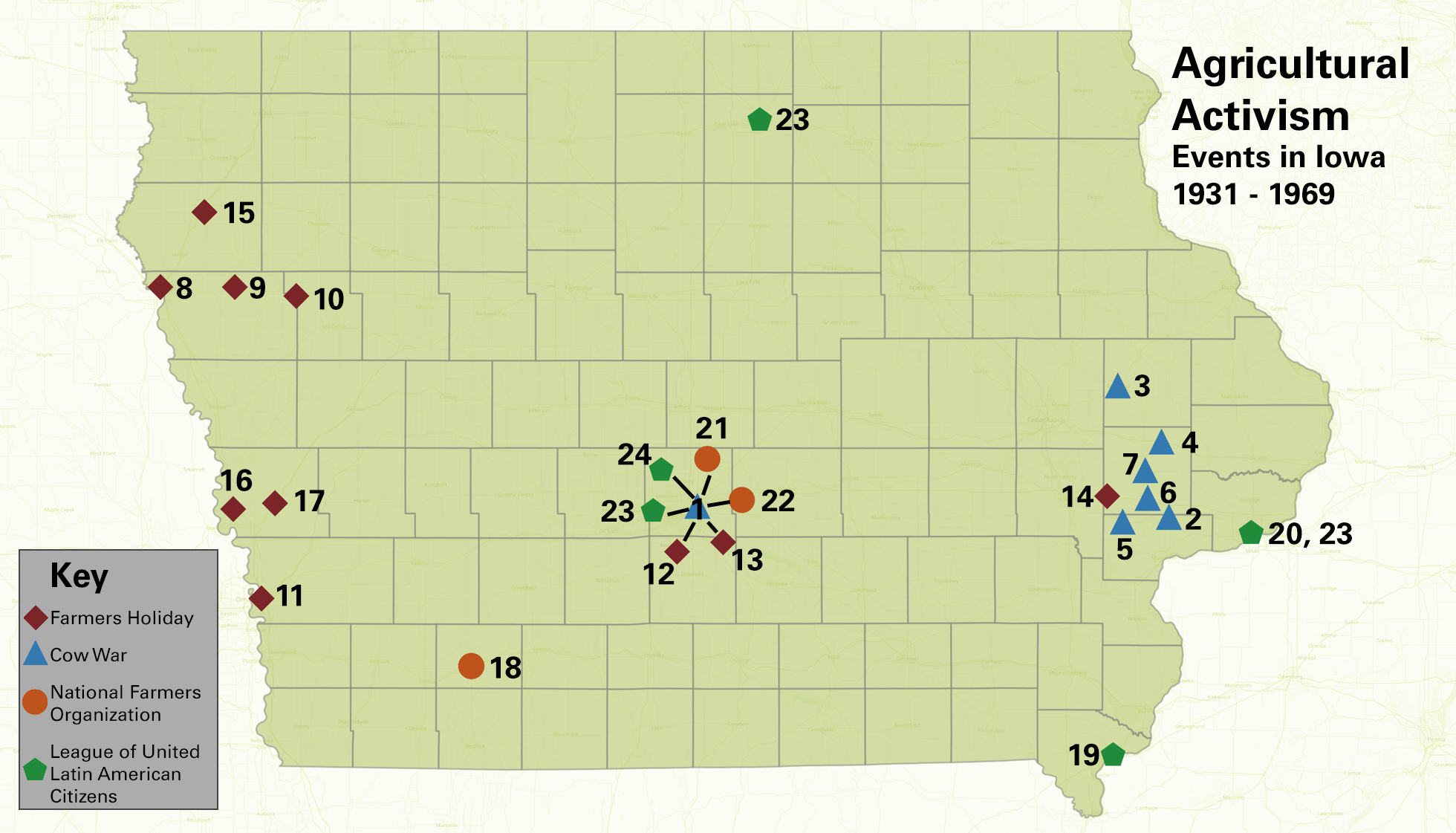 Map with Legend (PDF) Courtesy of Kim Anderson.
Description of Map Events
1.  Capitol Building protest. Des Moines, 1931. Approximately 1500 farmers converged on the legislature to protest mandatory testing.

2.  Violent encounter. Wilton Junction, 1931. 63 state agents and police officers, and two veterinarians try to test cows at the Lenker farm and are blocked by over 400 farmers. Farmers used clubs, rocks, rotten eggs, slashed tires, and filled a car radiator with mud. Veterinarian Peter Malcolm had his briefcase, suitcase, and hat stolen. Tear gas was used on the crowd.

3.  Farmer jailed. Anamosa, 1931. Jake Lenker jailed at the Men's Reformatory. He posted $10,000 bail the next day.

4.  Butterbrodt farm protest. Clarence, 1931. 1,000 farmers confronted the state veterinarians and 20 sheriffs sent to test herds on William C. Butterbrodt's farm.

5.  Veterinarian attacked. West Liberty, 1931. Arthur Fogg and his family splattered veterinarian A. H. Joehnke with eggs, water, and the contents of their chamber pots.

6.  Assistant Attorney General attacked. Rochester township, 1931. Iowa State Assistant Attorney General Oral Swift was pushed into a barbed wire fence and veterinarian Peter Malcolm was thrown off E.C. Mitchell's farm by 75 protestors.

7.  National Guard sets up camp. Cedar County Fairgrounds, 1931. 1,800 National Guard soldiers arrive to enforce testing using threat of machine guns and bayonets. Camp was set up at the Tipton fairgrounds.

8.  Blockade. Sioux City, 1932. Blockade of Sioux City begun by dairy farmers striking against the J. R. Roberts Dairy Company.

9.  Caravan breaks through blockade. Sioux City area, 1932. Emma Pallutz Baack led a caravan of 15 trucks of livestock through the Sioux City blockade.

10.  Deputies attacked. Cushing, 1932. 50 deputy sheriffs escorted five truckloads of hogs from the Turner farm in Moville to the Ida County border near Cushing. Farmers Holiday members attacked deputies with stone, lead pipes, gravel, and sticks. 11 deputies injured.

11.  Accidental death. Council Bluffs, 1932. Deputy Claude Dail killed by another officer from accidental discharge.

12.  Highways picketed. Des Moines, 1932. Farmers' Holiday association picketed on half of main highways leading into Des Moines. They were joined by the Khaki Shirts Association. Milk dumping was threatened, but didn't happen.

13.  Protest against Hoover. Farmers paraded to protest President Hoover's policies in conjunction with holding actions.

14.  Hayslett farm protest. West Branch, 1933. A group of 20 protestors persuades sheriff not to auction Hayslett farm.

15.  Judge abducted. Le Mars, 1933. In response to foreclosures, a judge was abducted from court and assaulted by crowd of 600 farmers. He was slapped, blindfolded, a rope was tied around his neck, he was choked until nearly unconscious, his face was smeared with grease, and his pants were stolen.

16.  Cleaver farm protest. Modale, 1933. A group of 700 farmers block the sale of the Cleaver farm.

17.  Hearings protest. Logan, 1933. A group of 700 protestors prevented hearings on sheriff's sale of six farms.

18.  First Regional National Farmers Organization meeting. Corning, 1955. National Farmers Organization (NFO) holds its first regional meeting to elect officers and establish 12 districts.

19.  First League of United Latin American Citizens in Iowa. 1957, Fort Madison. LULAC Council 304 founded - the first League of United Latin American Citizens chapter in Iowa.

20.  LULAC Council 10 founded. 1959, Davenport. LULAC Council 10 would eventually organize successful grape and tomato boycotts.

21.  Collective bargaining vote. Des Moines, 1962. At the "Meeting for Action" held by the NFO, 20,000 farmers agreed to unite to force processors to accept collective bargaining.

22.  Vote for withholding action. Des Moines, 1967. Over 35,000 NFO members agree to witholding action and to establish a grain bank

23.  Tomato Boycott. 1969, Des Moines, Davenport, and Mason City. "Tomato Boycott" is launched when flyers were distributed at churches on Easter Sunday.

24.  March on capitol. 1500 demonstrators marched to State Capital in support of recently inroduced bills to regulate migrant child labor and to improve migrant housing conditions.