LGBT+ Student Life at Iowa State University: 1970-1999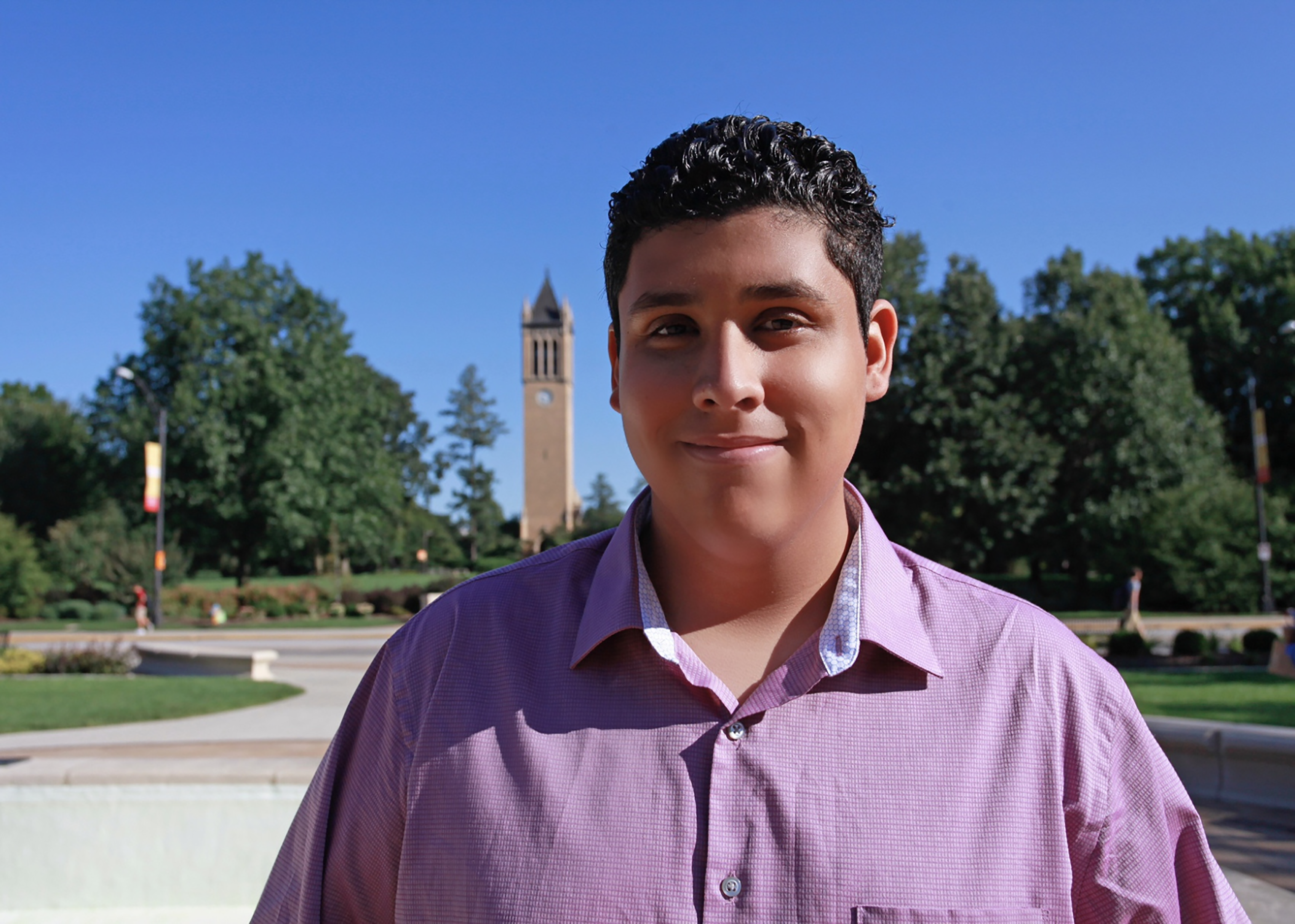 About the Exhibit
Meet the Curator
Luis Gonzalez-Diaz is a Political Science and Sociology undergraduate student at Iowa State University. His goal is to one day obtain a PhD in Sociology, do research, and teach at a university. At the university, Luis is a NCORE-ISCORE Scholar, McNair Scholar, and Student Success Leader for the BOLD Learning Community in the College of Liberal Arts and Sciences. Luis was one of the two Undergraduate Research Assistants(URAs)for the University Archives during the 2018-2019 school year, and he researched the LGBT+ community at Iowa State.
Acknowledgements
SCUA would like to thank Brad Freihoefer and Clare Lempke of the ISU LGBTQIA+ Student Success Center both for consulting with Luis about resources for his project and for allowing Luis to shadow the planning and assemblage oftheir 2018 "Out and About" visit to the archives.
Helping Us Tell the Story
This exhibit is limited to materials available in Special Collections and University Archives. Our holdings on this topic are limited to materialsSCUA has received from campus organizations, student groups, and individual students and alumni in the past, and, unfortunately, these are far from comprehensive–especially with regards to LGBT+ student of color. If you would like to assist future researchers in their quest to understand the history of LGBT+ communities and experiences at ISU, please consider donating your own records so we can tell a fuller story. We are willing to work with donors whose materials might need to be restricted for a time, so that the long-term historical record need not erase individuals who are not yet out. Please contact Rachael Acheson, Assistant University Archivist, at achesonr@iastate.edu with questions or for additional information.
Curator, Digitization, and Descriptive Metadata
Luis Gonzalez-Diaz
URA Supervisor and Exhibit Coordination
Rachael Acheson
Digital Exhibit Design
Lori Bousson
Digitization Supervision
Mindy McCoy
Digital Collection and Descriptive Metadata Supervisor
Lindsay Hillgartner
Resources on LGBT+ Life at ISU
Campus Life:
You will notice that Luis's storyline draws heavily on newspaper articles, which can point to the existence of events, organizations, incidents, or opinions that may or may not be documented elsewhere. Later editions of the (now discontinued) yearbook, The Bomb, as well as websites captured in the archives' web archiving system Archive-It, may similarly fill in some gaps – or at least hint at where these gaps are.
Student Organizations and Services:
University Archives does not yet have information on or from every LGBT+ student organization or supporting administrative service that has existed on this campus. A few collections that you may find useful, however, include the following:
Lesbian, Gay, Bisexual, Transgender, and Ally Alliance at Iowa State University records (1985-2007), RS22/4/0/6: https://n2t.net/ark:/87292/w9fb96
Lesbian, Gay, Bisexual, and Transgender Student Services Records (1991-2012), RS 7/3/10: Search in CARDinal database.
Political and Social Action Organization records, RS 22/4/0/1
Event Posters:
Some events sponsored by LGBT+ organizations may or may not appear in that organization's records. However, we also collect posters from the Memorial Student Union, many of which feature events, organization recruitment, educational opportunities and University Lectures that would be of interest to researchers attempting to learn more about LGBT+ activities on campus.
Memorial Union records, RS 21/5

 
University Library General Collections and Resource:
The Library's general collections also contain a wealth of information about LGBT issues at large, as well as links to contemporary campus resources.
External Resources:
The following resources are not affiliate with Iowa State University but may prove useful to researchers who wish to dig deeper into local and state LGBT+ history.


This exhibit is licensed under a Attribution-NonCommerical 4.0 International (CC BY-NC 4.0). Licensing and rights for collection materials depicted in the exhibit vary. Contact Iowa State University Library Special Collections and University Archives Department, archives@iastate.edu for assistance.